The marble quarries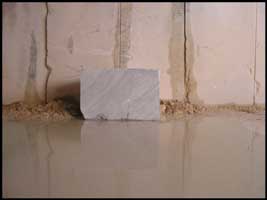 The marble has always represented the cornerstone of the economy of Carrara. Over the years distinguished himself for his impeccably smooth surface with no cracks and its unmistakable white-gray.
Although the area is rich in Carrara quarries marmifere are blocks of marble imported from other countries and then worked in local factories, famous worldwide for mastery in processing.
The extraction Marble
One of the first people who ventured in extraction of marble were the Romans, that inserting wooden beams inside the fig natural fissures of the rock, filled the water until completely permeating them and cause cracks in the rock. This extraction technique has remained unchanged, except with minor variations, until the Renaissance when Michelangelo began to frequent the area for Carrara practice the extraction and processing.
To date more than 200 companies that extract about 700,000 tons of marble per year, making Carrara the first stone Marmifera producer in the world.
How to reach the Cave
The area of quarries of Carrara is easily accessible by tourists: come to Carrara is possible that suffered nearly 300 caves located in the hills behind the town. The cave marmifere more important from the point of view of crystallizations, in particular sulfur and quartz, are the quarry Fontiscritti, La Fossa and facade of the Angels. Tourists are reminded that given the lack of mining in recent years become more difficult to find good minerals in the area, depends greatly on luck.